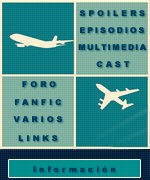 Bienvenido a Lostzilla.net , una web dedicada a la serie de televisión LOST que emite el canal ABC.
Para cualquier asunto, podéis contactar con nosotras en nuestros correos electrónicos:
aquí
.

Este sitio no es oficial. no está vinculado ni a
ABC
ni a ninguno de los actores o creativos de la serie. Está realizado sin ánimo de lucro.
This work is licensed under a
Creative Commons Attribution-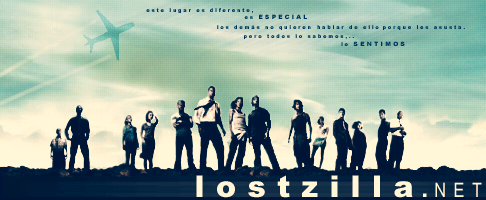 Episodios

(~) Reviews (análisis) de episodios por Aelin.

Click en los títulos de los episodios para leer el resúmen.
~ Guía de episodios:
Sexta temporada ~
Episodio 6x00:
The final chapter. Especial previo al estreno de la sexta temporada..
Subtítulos
gracias a subs-team.
Episodio 6x01/6x02:
x
LA X
(LA X)
Episodio 6x06:
x
Sundown
(Puesta de sol)
Episodio 6x08:
x
Recon
(Re-engaño).
Episodio 6x09:
x
Ab Aeterno
(Desde el principio de los tiempos).
Episodio 6x10:
x
The Package
(El paquete).
~ Guía de episodios: Quinta temporada ~
Episodio 5x00: Destiny Calls.
Episodio 5x02:
x
The lie
(La mentira)
Episodio 5x10:
x
He's our you
(Él es nuestro tú)
Episodio 5x12:
x
Dead is dead
(Muerto significa muerto)
Episodio Especial:
x La historia de los 6 de Oceanic
Episodio Especial:
x A journey in Time
~ Guía de episodios: Cuarta temporada ~ (Gracias a wikipedia)
Episodio 4x01:
x
The beginning of the End
(El principio del fin)
Episodio 4x02:
x
Confirmed dead
(Muerte confirmada)
Episodio 4x03:
x
The Economist
(El economista)
Episodio 4x04:
x
Eggtown
Episodio 4x05:

Episodio 4x06:

Episodio 4x07:
Episodio 4x08:
Episodio 4x09:
Episodio 4x13-14:
~ Guía de episodios: Tercera Temporada ~ (Gracias a wikipedia)